Kitchen Flooring: An Important Choice in Remodeling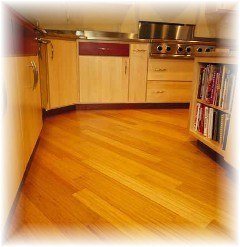 There are so many choices to pick from when you are thinking ofreplacing your kitchen flooring. It can be just as much fun to do your research and look for kitchen flooring options as doing the job. In fact, you may find it was more enjoyable when it was in the fantasy and planning stages, than the actual work of the project itself.

When you are deciding what type of kitchen flooring will be best for your familyís needs, you need to think not only about price and style, but wear and tear on the kitchen flooring as well. If you plan to spend a lot of time with kids and pets in your kitchen, you will need to choose a kitchen flooring option that is up to the job.

You can choose from solid wood floors for your kitchen flooring. This may be expensive and depending upon the climate where you live, may have some moisture issues. Solid wood is a wonderful option for kitchen flooring as it gives a room warmth and grace that may have been previously lacking.

If solid wood kitchen flooring is not an option for you, you might think about laminates. Laminates can give your kitchen the same ambiance as solid wood kitchen flooring, for prices that are far less as well as being easier to maintain. You can find laminates in many different designs and styles to please the eye as well as the pocket.

Ceramic tile is always an option, but if you have small children, you may want to think twice. Ceramic tile is prone to breakage if something hard enough is dropped on it and when children are living in the house, that may be a risk you are not willing to take.

Another great kitchen flooring option is the old tried and true linoleum. Linoleum is cheap, easy to keep clean and quickly and simply installed. You may find yourself recalling linoleum of days gone by, but linoleum has come a long way as a kitchen flooring choice since then. Many people are implementing the various colors and designs that are offered at prices that canít be beat.
If you are looking for an Albany kitchen remodeling contractor, please call us today at 518-432-9298 or complete our online request form.