Albany Home Repair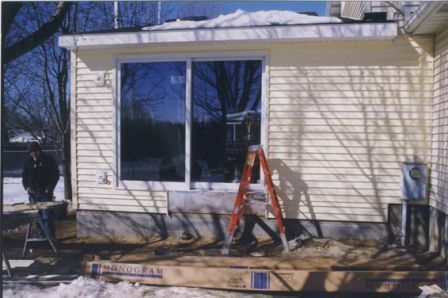 We pride ourselves on our reputation for a timely completion of services with a professional and artisan touch. Our licensed and insured Albany Home Repair Contractors can save money for you. Frank R Kennedy & Son Construction is your complete residential home improvement company. Family owned and operated since 1946 we are personally on the job and put our name on each project that we do .
Kennedy Construction provides handyman services for homeowners throughout the Albany, New York area. Regardless if it is simple repairs or a major home improvement we can help you out.
Our Albany Home Repair Experts Provide These Detial Services
Framing
Bookcases
Shelves
Cabinets
Trim work
Moldings
Pocket Doors
Windows
Handicap ramps, railings
Storage Sheds
Soffit repair
Wood rot repair

Child proofing
Crown molding
French doors
Hardwood, tile, & vinyl floors
Stairs, steps, & railings

Cabinets
Install Knobs
Adjust drawers/doors
Counter tops
Garbage disposals

Picture and mirror hanging
Furniture moving
Moving boxes
Product assembly
Clean-up and organization
Fixture installs & repair
Moving furniture
Sweeping
Punch-out / turn-a-round
Railings
Sanding
Walkways

Deadbolt locks
Door Repair
Glass install &replacement
Hinges
Sliding doors
Storm doors & windows
Weather stripping and caulking
Window installs & repair
Window locks
Window sills

Attic Stairs
Attic exhaust fans
Blinds and Shades
Closet Organizers
Landscape Lighting
Child Safety Latches
Appliances
Curtains
Doors and Windows
Hand rails
Locks
Pet doors
Smoke detectors
Speaker, TV, computer cable
Roof Vents and Turbines
Bath exhaust fans
Range hoods

Ceiling leaks
Drawers
Drywall and plaster cracks
Tile/Grout
Gates and Fences
Masonry

Caulking around tile and fixtures
Toilet repair
Towel racks
Grout
Soap dispensers
Tile work
Bath fans
Mirrors

Interior Painting
Insulation
Painting
Paneling
Patching
Shelving installation
Vents
Wall paper
Wall repair

Mowing
Weeding
Mulch
Shrub Trimming
Leaf Cleanup
Snow Removal
Ornamental Tree Care
Turf Care
Patios & Walkways

Chimney caps – install, replace
Downspouts – install, clean out
Flashing – replace and repair
Roof vents
Roof leaks
Shingles
Skylights

Basement clean-up
Fire extinguisher installs
Garage clean-up
Tool Organizer Installation
Shelves and Cabinets
Durable epoxy coatings for garage floors
Driveway expansion joint repair

And many more...
We Provide Home Repair Services To The Following Areas:
Albany County - Albany, NY | Cohoes, NY | Loudonville, NY | Colonie, NY | Watervliet, NY | Latham, NY Rensselaer County - Troy, NY | Green Island, NY | Brunswick, NY | Lansingburg, NY | Rennslear, NY | Wynantskill, NY | Greenbush, NY Saratoga County - Clifton Park, NY | Malta, NY | Round Lake, NY
Why Albany Should Choose Use for Home Repair
Our job is to provide you with a completed home improvement project, and advise you on ways to save money, without cutting essential costs. With our experience in this industry, we have learned who to rely on for quality materials, and services. Professional scheduling, project planning, and project management are handled for you, so you don't have to worry about a thing.
If you are looking for an Albany home repair expert, please call us today at 518-432-9298 or complete our online request form.