Albany Siding Contractors - Vinyl Siding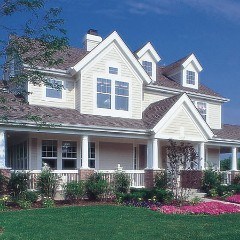 Protecting your New York home with siding, regardless if it is steel, vinyl or wood not only provides an outstanding barrier against the weather, but proves both durable and attractive finish.
You can update the look of your Albany area home, save money, especially if you have had to repaint your house every few years. Siding is known for its ability to stand up to the weather. Its a great choice for freezing winter and intense sun. Homes in the Northeast that have vinyl siding installed will receive a 114.9% recoup of the cost to have the project completed, according to the 2006 "Cost vs. Value" Report on Realtor.COM.
CertainTeed Vinyl Siding

Vinyl siding seals Albany area homes against water damage while making the house look great. Vinyl siding is also easy to clean with a pressure washer. Vinyl siding costs depends on the color and style that you pick. There are many colors to choose from and they will raise the value of your home.

There are blues, creams, browns, and reds. Each color will add to the value of your home, however, choosing light colors that appeal to more will help sell your home. A darker vinyl siding color will make the house look small and unwelcoming, whereas warmer, brighter colors will make your house look larger and more welcoming.
CertainTeed offers its RigidForm system in three popular sidings and price ranges. You can have the outstanding performance you need, in the style you prefer at the price that fits your budget.
CertainTeed Vinyl Siding Color Choices

If you are looking for an Albany vinyl siding, please call us today at 518-432-9298 or complete our online request form.