FiberCement Siding by CertainTeed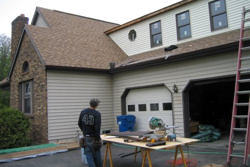 All fiber cement sidings are not created equal. This has been a topic of great debate. All siding manufacturers will tell you that their products are the best and why wouldn't they? It would be silly to manufacture a product and advertise it as 2nd best or bottom of the bucket - no matter what the reality is.
What makes WeatherBoards™ fiber cement siding so special?
Beauty - WeatherBoards siding for your home. Beautiful. You get all the best features of wood siding, without any of the headaches. It's because of CertainTeed's unique DuraPress® System of manufacturing. And to protect the beauty, WeatherBoards siding is sealed at the factory with the exclusive FiberTect™ Sealing System. Your Missouri home deserves WeatherBoards, America's finest Fiber Cement Siding.

Value -The beauty lasts longer. FiberTect's low moisture infiltration dramatically reduces blistering and peeling. WeatherBoards uses 15% less paint than other fiber cement sidings. The paint lasts long so homeowners don't need to repaint as often. CertainTeed WeatherBoards offers the longest paint "window". FiberTect sealing allows 24 months vs. 3-6 months for competitive priming systems.

Durability -On the wall, WeatherBoards siding has a natural wood appearance, thanks to CertainTeed's exclusive DuraPress® process which gives the panel the most authentic and consistent grain. On the job, FiberTect™-sealed WeatherBoards siding is protected against moisture approximately 85% better than other competitive priming systems. And over time, WeatherBoards siding offers the security of a Class I (A) fire rating.
If you are looking for an Albany Vinyl Siding Contractor, please call us today at 518-432-9298 or complete our online request form.