Troy Remodeling Contractors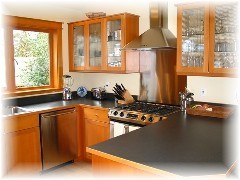 There are many things that you need to consider in deciding to remodel your home. One of the most important is the financial aspect or the cost of the renovation. Renovations can prove to be very expensive and it is important that you are able to mange the costs involved in the renovation. However, there are also major considerations that you need to look at even before you decide to renovate.
Determining cost
The first step is to determine the type of renovation that you want to have done. Internal changes are easier and less costly to do while structural changes usually take a longer time and costs more to do. To be able to assess the cost of the project, the common practice among homeowners is that they first determine the value of their homes before they decide to renovate. This step allows the homeowner to decide on how much he needs to spend on the renovation because he can decide whether it would be worthwhile to renovate or whether it would be more practical to buy a new home. The usual acceptable cost for renovations should range from twenty to thirty percent of the total value of your house, anything beyond this may be considered impractical. Doing this may require you to solicit the help of a real estate appraiser who can determine the market value of your home.
Reviewing bids
Once you have decided to renovate your home, you must then be able to review the bids and quotations that potential Troy remodeling contractors and builders submit. The bids that are submitted to you should include the cost of construction materials, the cost of construction labor, permit fees, decorating the remodeled part, the cost of repairs due to remodeling and cleaning up after remodeling. It is important the contractors and builders submit accurate and specific figures on all costs so that you can consider all aspects of the cost.
Remodeling your home will involve various costs. Before deciding to renovate you must first decide if it would be practical to renovate your home or to just buy a new home. If you do decide to renovate, you must then be prepared to go over the bids that are submitted to you by contractors and decide which one best fits your budget and your needs.
If you are looking for a Troy remodeling contractor, please call us today at 518-432-9298 or complete our online request form.