Roofing and Gutters For Your New York Home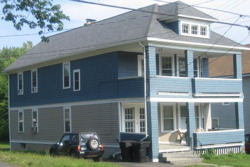 Kennedy Construction does nearly all types of roofing and has over 20 years experience in being a roofing contractor in the Albany area. We specialize in many roofing systems that we believe offer the best quality and price for any Albany area home. The roof that complements your home or commercial building. Our installers are fully experienced in installing virtually any roofing material including, fiber glass, light weight, cementatious, wood fiber, ceramic shingles, and tile. For pitched surfaces as well as rolled and hot mopped for flat roofs.
Gutter Protection and Seamless Gutters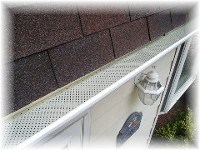 The comfort of being able to enter and exit your New York home without getting soaked is the most obvious reason for getting seamless gutters. But the advantages go much further than simple convenience. Letís start from the bottom. Properly installed gutter systems will direct rain water away from the buildings foundation where it may leak into the basement/crawl space, or cause damage to the foundation itself by causing it to heave or settle.
When most people picture rain gutters, they see the old galvanized gutter with rusty bottoms and hanging sections, or plastic sectional gutters with pieces missing and leaking seams. Now, with the help of the seamless gutter machine, and our professional gutter installers superior installation, Aluminum and Copper gutters make for long-lasting, attractive gutter system that will complement and protect your home or business for years to come.
If you are looking for an Albany roofing contractor, please call us today at 518-432-9298 or complete our online request form.