Kitchen Countertops - So Many Choices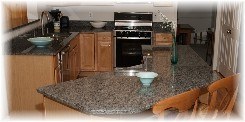 Today on the market there are numerous types of kitchen countertops available. These countertops are made from different materials, some are better than others. Before buying a new countertop for your kitchen you should really take the time to figure out what type of material or surface you want to have in your kitchen. If you are a person that spends a great deal of time in the kitchen you might want to select a countertop that can withstand the wear and tear and will made of a material that you donít have to worry about replacing the countertops every several years.

There are some surfaces however than can be repaired without having to be replaced completely. If the damage to the surface isnít too serious, for example there are some surface scratches, it is possible to sand these scratches out and simply retouch the paint. Some of the best surfaces for sanding out minor scratches are any kind of solid surface. Solid surfaces also sand up better to burns and stains. Ceramic countertops however do not stand up to damage as well. If you want to go with a ceramic surface then you must be prepared to regrout your kitchen countertop every few years. While this is better than having to replace the entire surface it is not an easy task.

One of the best materials for countertops on the market today is Kirkstone. Kirkstone comes from England. Due to the fact that it comes from huge layer of volcanic rock you can feel assured that it is tough and is known for it durability. It is almost as hard as granite. However, there are some slight drawbacks to using this kind of material. There is some effort needed to care for the material. This is not a material that you can slap on in your kitchen and forget that it is there. For example, to keep the surface from staining or fading, any kind of spills should be cleaned up immediately. It requires day to day cleaning with a damp cloth just as every other countertop.
If you are looking for an Albany kitchen remodeling contractor, please call us today at 518-432-9298 or complete our online request form.