Bathroom Cabinets For Your New York Home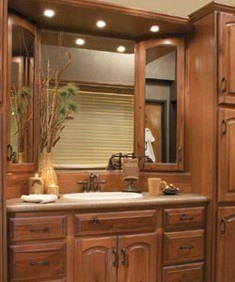 Cabinets are the most elegant and decorative bathrooms and kitchen items offer much storage space in the bathroom to store your bath accessories such as medicines and first aid box, deodorants. Besides these you also can keep your napkins and towels which are very essential while showering in your bath. They are powerful items to keep your bathrooms more orderly and organized so that you can get every essential day to day bath accessories within your hands reach. Before choosing a suitable bathroom cabinet for your heavenly luxurious bathroom two major things should be taken into consideration.
The first one is size and second is appearance. Besides size and appearance of bathrooms few other things also you have to consider such as budget, style, quality and finishing. You can get all these information by browsing any online bathroom store based in your local area. They will help you to share a wide idea about your bathroom cabinets. You should consider few things before buying a cabinet as bellow Set your budget for bathroom cabinets: It is very vital to set a budget for your bathroom decoration as these are the 30 to 40% of total bathroom decoration so setting your total budget figure is a necessary work that you will need to do.
After making a total budget you will be able to set a budget for bathroom cabinets that will set the tone of your new bathroom and play a major role in transforming your space. Measure your bathroom space: This is very true that you will choose a bathroom cabinet according to the availability of the space within the bathroom and think about where you might want the new cabinet to fit. For better bathroom space area utilization call aprofessional bathroom remodeling contractor to come and see the bathroom space.
If you are looking for an Albany bathroom remodeling contractor, please call us today at 518-432-9298 or complete our online request form.