3 Of The Best Home Remodeling Projects For Spring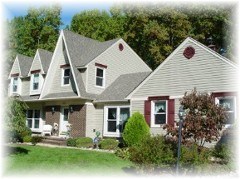 Now that spring is finally upon us, many homeowners are getting busy and trying to make improvements to their homes. With the milder weather and temperatures, spring is the perfect time of year for a number of home improvements projects, and the only problem becomes one of figuring out which projects to take care of in the time you have available. Because of this, it helps to have a plan in place before spring arrives, but if you don't, there's no need to worry, because you still have time. If you are looking to make improvements around your home this spring, but you are still on the fence about which projects you would like to put on your spring to-do list, we invite you to read through this short list our team of professionals have taken the time to put together. In it, we will go over several of the best, and overall most popular home remodeling projects that homeowners all over the country choose to tackle in the spring. Take a few minutes to read through and then make a call to our professional remodeling contractors to book your appointment today before schedules start filling up!
Kitchen Renovation & Expansion
If you are looking for a great way to enhance the function of your home while still giving your home a significant boost in value, as well as overall aesthetic appeal, a kitchen renovation or expansion can be the perfect way to do so. The great thing about a kitchen remodel is that the possibilities are almost endless on what can be done, and are really only limited by your design. New kitchen cabinets can be a great way to improve your kitchen's storage capabilities, or to just help you change up the space's overall visual aesthetic. Likewise, installing new kitchen appliances can be a great way to bring a modern feel to your home, all while helping you improve the overall function of the space for you and your family. You can even look at expanding your kitchen space to open up more possibilities than you ever thought possible.
Bathroom Remodel
While most homeowners only see their bathrooms as a place that only sees occasional visits throughout the day, it is actually one of the most frequently used rooms in the home, and as such, it can benefit greatly from a professional remodel. The right remodeling plan can help you take your bathroom from a space that you tolerate to a relaxing space that you legitimately enjoy spending time in at the end of a long day. Brand new tubs, showers, plumbing fixtures, and even floor or wall tiles can help you transform your old bathroom space into the spa-like retreat that you've always wished it could be. You can even expand the space to accommodate new linen closets, or just to give yourself a bit more room in what would have otherwise been a cramped and confined space.
Room Additions
If you are like most homeowners, the amount of space you need in your home is likely only going to increase over time. Whether your family is growing and you desperately need that new bedroom, you really want to start that work-from-home business, but you just can't find the room for a new home office, or you and your family are just tired of feeling cramped and confined inside your home, a room addition can be the perfect way to get that extra space and functionality you need from your home, and spring is the perfect time to do so. Call Frank R Kennedy & Son Construction for more information today!
If you are looking for a professional remodeling contractor in the Albany area, give us a call today at 518-432-9298 or complete our online request form.